Stormpromax is a stormwater management solution for NPDES Compliance Tracking.
Our software is designed to provide Development, Construction and Design Professionals an easy, web based and cost-effective method for tracking National Pollutant Discharge Elimination System (NPDES) permits and their requirements. Below are a few of Stormpromax's compliance solutions.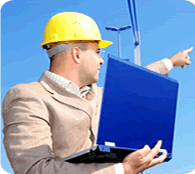 Fieldpro is our portable solution.
Take all of your valuable information with you; documents, photographs, permits and other necessary information.
click here

Stormpromax is a complete compliance tracking solution.
We provide you and your organization with peace of mind knowing you're ahead of the competition when it comes to compliance risks.
A few examples of industries that Stormpromax supports:
BMP Inspectors & Installers
Engineers
Consent Decree compliance
Tenant Airport Compliance
click here

Stormpromax is a stormwater management solution for NPDES Compliance Tracking.
NPDES Tracking
Detailed NPDES inspection tracking for inspectors, permit owners contractors & third party vendors.
Security Customization
Customize levels of security for employees, workgroups, location, management & third party access.
Automated Reporting
Automated NPDES report generation, report distribution, notifications for tasks requiring responsive action and more.
Web Access
Our compliane tracking software is web-based and available 24 x 7 x 365 from anywhere an active internet connection is available.
Multimedia Features
Photograph, video, audio and document attachment functionality at site, permit and inspection levels.
Custom Service Solutions
Advanced team of programmers and technicians are available to provide custom solutions to your unique needs.
Interactive Site Map
Track NPDES inspection activity on your lots/areas, well pads and station numbers.
Electronic signature
Stormpromax has electronic signature features for your convienence.